I hope you are enjoying the summer weather 🙂
The General Assembly will reconvene for Veto Session in October. Until then, please find some updates and recaps below!
Fighting For You!
Bringing Natural Gas to Pembroke Township
Just after midnight on June 1st, the Illinois House of Representatives concurred with the Senate amendment to House Bill 3404 and overwhelmingly approved the measure. This legislation paves the way for a pilot program for the distribution of grants for the construction of natural gas infrastructure in Pembroke Township, located within the 79th legislative district on the Illinois-Indiana border.
The bill now awaits signature by the Governor. It is my sincere hope that this bill becomes law because it would keep residential fuel costs affordable while also driving economic growth in a community that has long been disadvantaged by underdevelopment.
COVID-19 Update
Extension of Expiration Dates
Illinois residents who need to renew their driver's licenses or state ID cards now have until January 1, 2022 to do so. Click here to find out what you'll need to renew your license at a Driver Services facility.
Around the District & Under the Dome
Will County Farm Bureau Family Fun Night
I had a wonderful night at the Will County Farm Bureau Family Fun Night on July 8th. The food and company was fantastic! Thank you for your hard work and hospitality!!
I even got to catch up with my colleague and Springfield seat-mate Rep. Tim Ozinga!
National Ice Cream Day
July 18th was National Ice Cream Day! My staff and I had the pleasure of visiting the new Rebel Ice Cream shop earlier this week in the historic Burfield + Remington building in Kankakee! They have a great selection and it sure was delicious!
National Hotdog Day
Celebrated National Hot Dog Day on July 21st with my staff at a local favorite, Jaenicke's!
Local James Bond Collection
Thank you Doug Redenius for the invitation to view this amazing collection of authentic James Bond memorabilia before it goes on an extended museum display in California! It was really a thrill to see so many amazing items!
Business Before Hours: Olivet Nazarene University
It was a pleasure meeting the newly elected Olivet President, Dr. Gregg Chenoweth, this morning! I am looking forward to our continued collaboration in the future!
Thank you to the Kankakee County Chamber of Commerce and Olivet Nazarene University for hosting this great event!
Edgar Fellows Program
I'm excited to share that I've been selected to participate in this year's Edgar Fellows Program. I'm really looking forward to spending time in Champaign next week, learning from and engaging with some of the most talented leaders in Illinois! To view the press release click here.
Visiting the Nucor Steel Co Kankakee Inc
Thank you to Nucor Steel Co Kankakee Inc for giving the office a tour of your facility! Nucor's commitment to safety, teamwork, and community partnership are inspiring. A real treasure in our district. Manufacturers like you keep the 79th strong!
Visiting the Bourbonnais Fire Protection District
Thank you to Bourbonnais Fire Protection District for giving my staff and I a tour of your facility earlier this week! We witnessed your commitment to protecting our community firsthand with your quick response to each call the station received. It was surely a busy day at the station! You all do such a great service to the 79th District!
Local Business Spotlight – Jimmy Jo's BBQ
This week I had the pleasure of presenting Jimmy Jo's BBQ in Bourbonnais with my Local Business Spotlight award. Eat there this weekend–you will not be disappointed Congratulations! See the full press release here.
I encourage my constituents to nominate a business in the 79th District for consideration of a future Spotlight opportunity. You can do this by clicking here.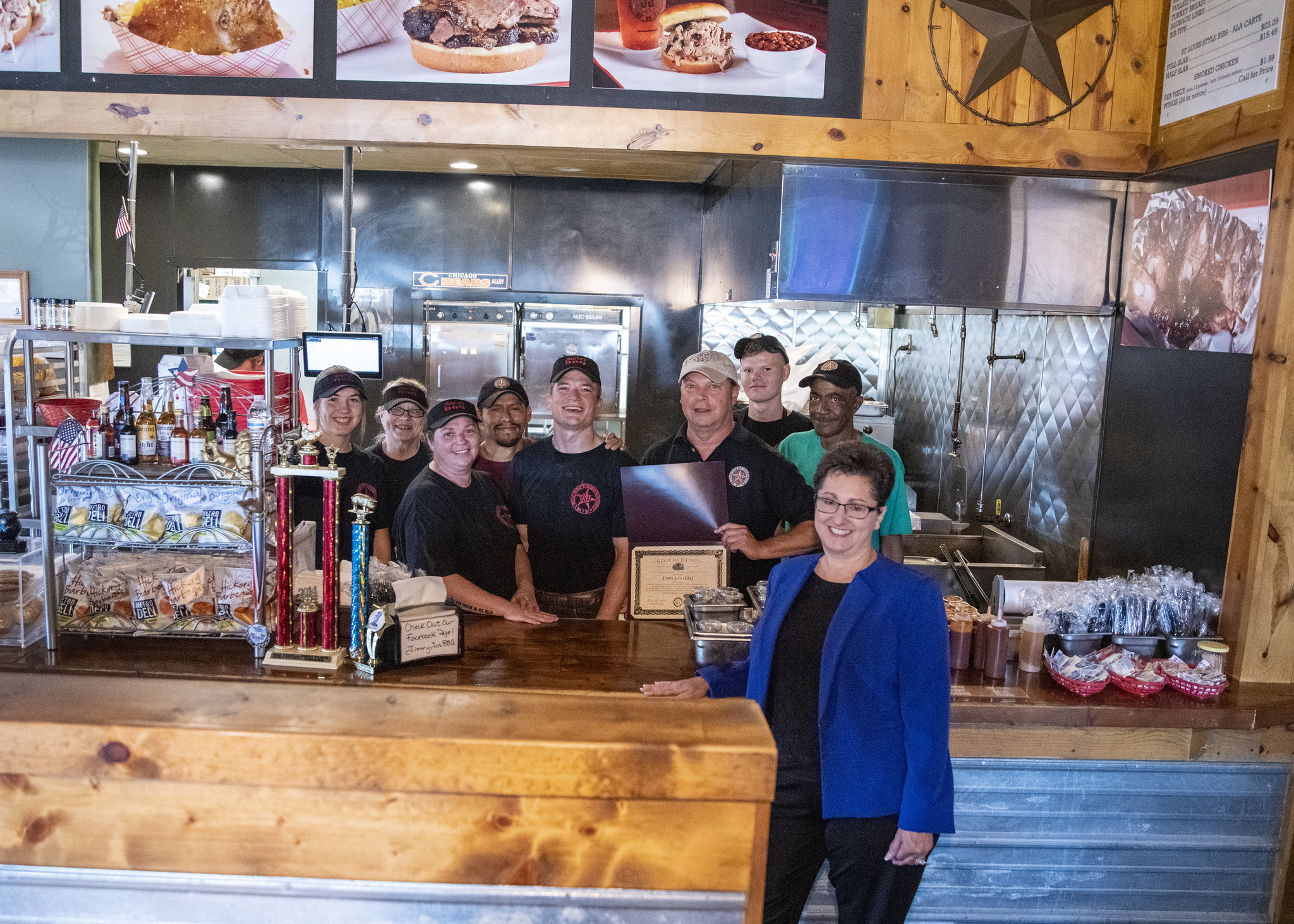 Frm. Kankakee Fire Chief Damon Schuldt
It was truly an honor to recognize recently-retired Kankakee Fire Chief Damon Schuldt in my district office on Monday, July 26th. I am so grateful for his decades of service to our community! See the full press release here.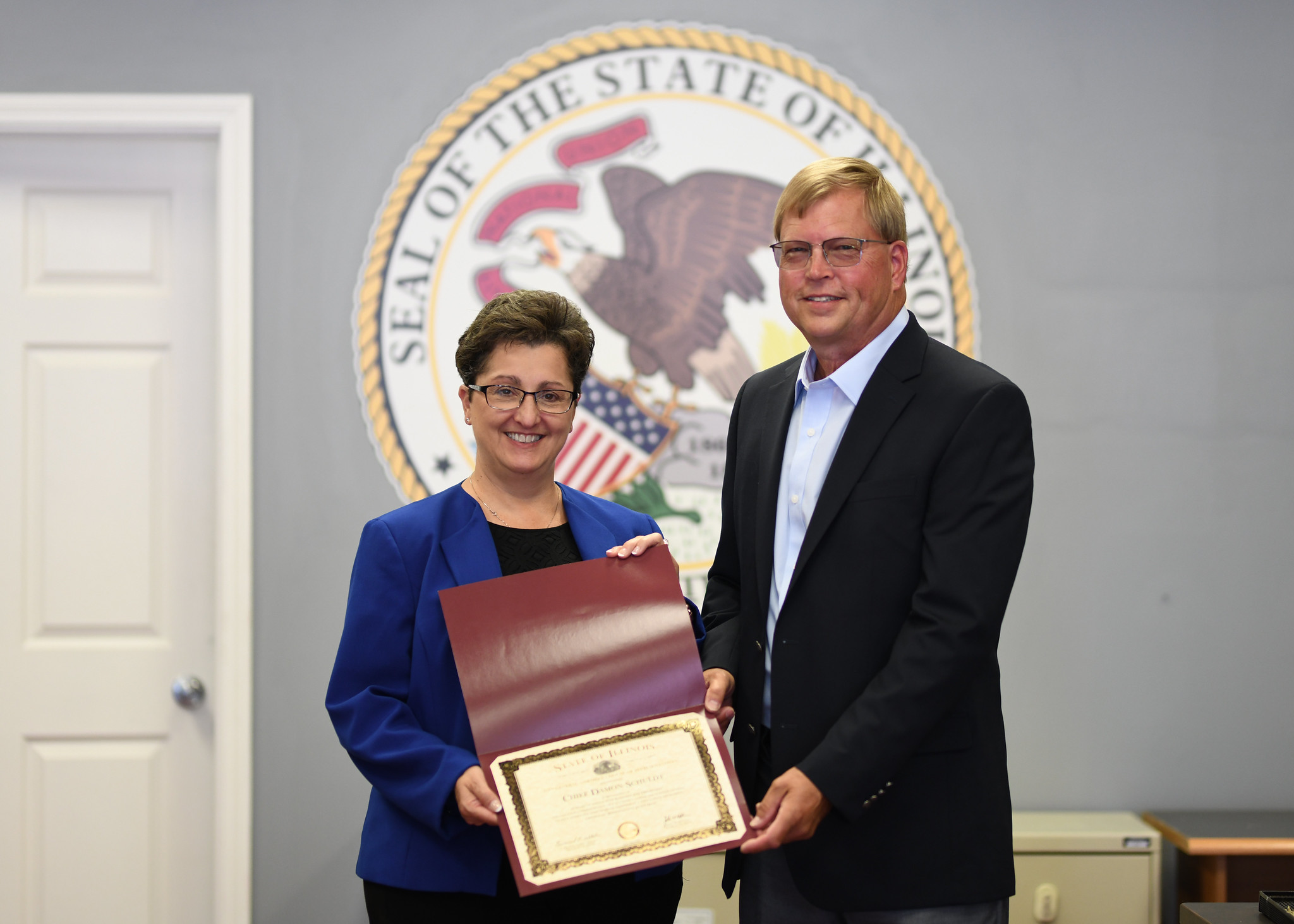 Visiting the Kankakee Army National Guard Aviation Support Facility and Readiness Center
I had the pleasure of touring our local National Guard facility. It was amazing to see everything the facility has to offer. Thank you for your service and for keeping us safe. We are proud to have you in our community! Thanks also to the team at the Greater Kankakee Airport for your hospitality and for making this tour possible.
Wulff Farm Visit
Thank you to Dave Wulff for giving me a tour of your farm. Agriculture is the backbone of Illinois' economy. It was great to see the hard work that goes into feeding our community!
Mark Your Calendar!
There's still time to participate in my first-ever summer reading club! Students in 1st-5th grade are challenged to read 8 books over the course of summer. Students who participate will receive an official certificate from the Illinois House of Representatives and an ice cream party! Pamphlets can be picked up from your local library or download here. Students who read 8 or more books during their summer break will be invited to an ice cream party at my office in August where they will receive a certificate from the Illinois House of Representatives. 🙂
As always, I encourage you to reach out to my office to express your views and opinions on legislative matters. I promise to be approachable, accessible and accountable. I will fight for you, your family and your business!