BOURBONNAIS, IL…This week, State Rep. Jackie Haas (R-Kankakee) presented Jimmy Jo's BBQ owner Jim Johanik with an official certificate recognizing the impact his business (and BBQ!) has made in the 79th District. 
Of the award, Rep. Haas said, "It was wonderful to have the opportunity to spotlight Jimmy Jo's BBQ. This family-owned business has operated in the 79th District for 12 years! Local businesses like Jimmy Jo's BBQ are part of what makes our community special, and part of why I am so proud to represent this area. Congratulations to all the Jimmy Jo's staff—know that your patrons recognize and appreciate your hard work and excellent service."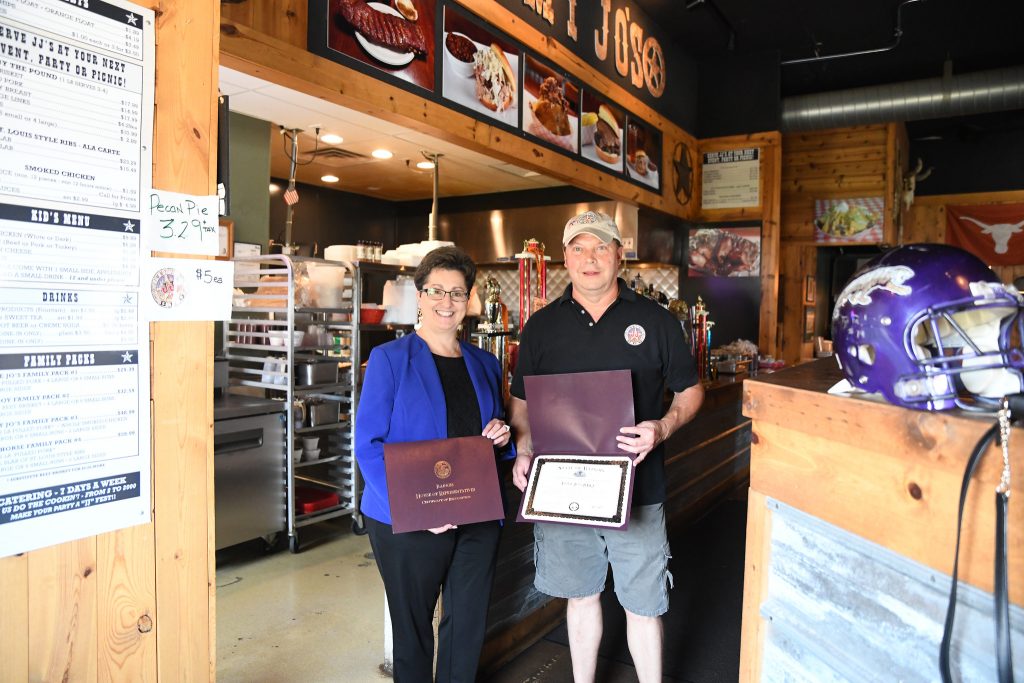 State Rep. Jackie Haas and Jim Johanik
Rep. Haas is seeking nominations for other local businesses in the 79th District to "spotlight" in the future. This will be a monthly opportunity! Constituents are encouraged to make a submission at rephaas.com by clicking on the "Local Business Spotlight Nomination Form" or directly, here.
###
What began as a mutual love of BBQ became a vision and then a reality as Jimmy Jo's BBQ opened in 2008 in Bourbonnais, IL by friends Jim Johanek and Lloyd Kemble. Jimmy Jo's BBQ specializes in authentic slow-smoked southern BBQ using the finest dry-rubbed meats smoked for hours over apple and hickory wood. Jimmy Jo's goal is to bring the best of BBQ to south Chicagoland in a fun, welcoming atmosphere that can be enjoyed by everyone. Come in and try some Texas-style ribs or some of the best brisket you will ever have outside of Texas! Jimmy Jo's should not be missed if you are a fan of great "Q". You will not be disappointed!
Jimmy Jo's BBQ is located at 665 N. Convent St. in Bourbonnais, Illinois.
(815) 933-7500 // jimmyjosbbq.com