I hope you are enjoying this fall weather.
The General Assembly reconvened for Veto Session on October 19th. Quite a lot transpired in Springfield and here are some updates!
Fighting For You!
House Bill 370
Parental Notification is about protecting the safety of our young girls and the rights of parents. That is why I voted no on HB 370 which seeks to repeal Parental Notification.
The danger of this legislation is not just that it strips parents of the right to be informed about serious medical decisions their children are making – it's also the danger it poses to children who are being sexually abused, exploited, or trafficked. I do not support the repeal of Parental Notification and, despite the passage of this bill, I will continue to work to protect the safety of young girls and the rights of their parents and guardians.
Senate Bill 1169
The Health Care Right of Conscience Act has long been held as a model for the nation as a protection of your sincerely held religious or moral beliefs and is a critical safeguard. That is why I voted no on SB 1169.
Unfortunately, the Democrat majority pushed this change to the HRCA through committee and passed it on the floor, despite over 50,000 Illinois residents filing witness slips in opposition. It is extremely disappointing to watch the Democrat majority ignore the voices of thousands of Illinoisans and push their own personal agendas.
This is an extremely dangerous, slippery slope we are on: our Governor has steamrolled changes to our current, decade's long laws to reinforce his failing public policies. We cannot continue to sideline the voices of Illinois residents – or the democratic process any further.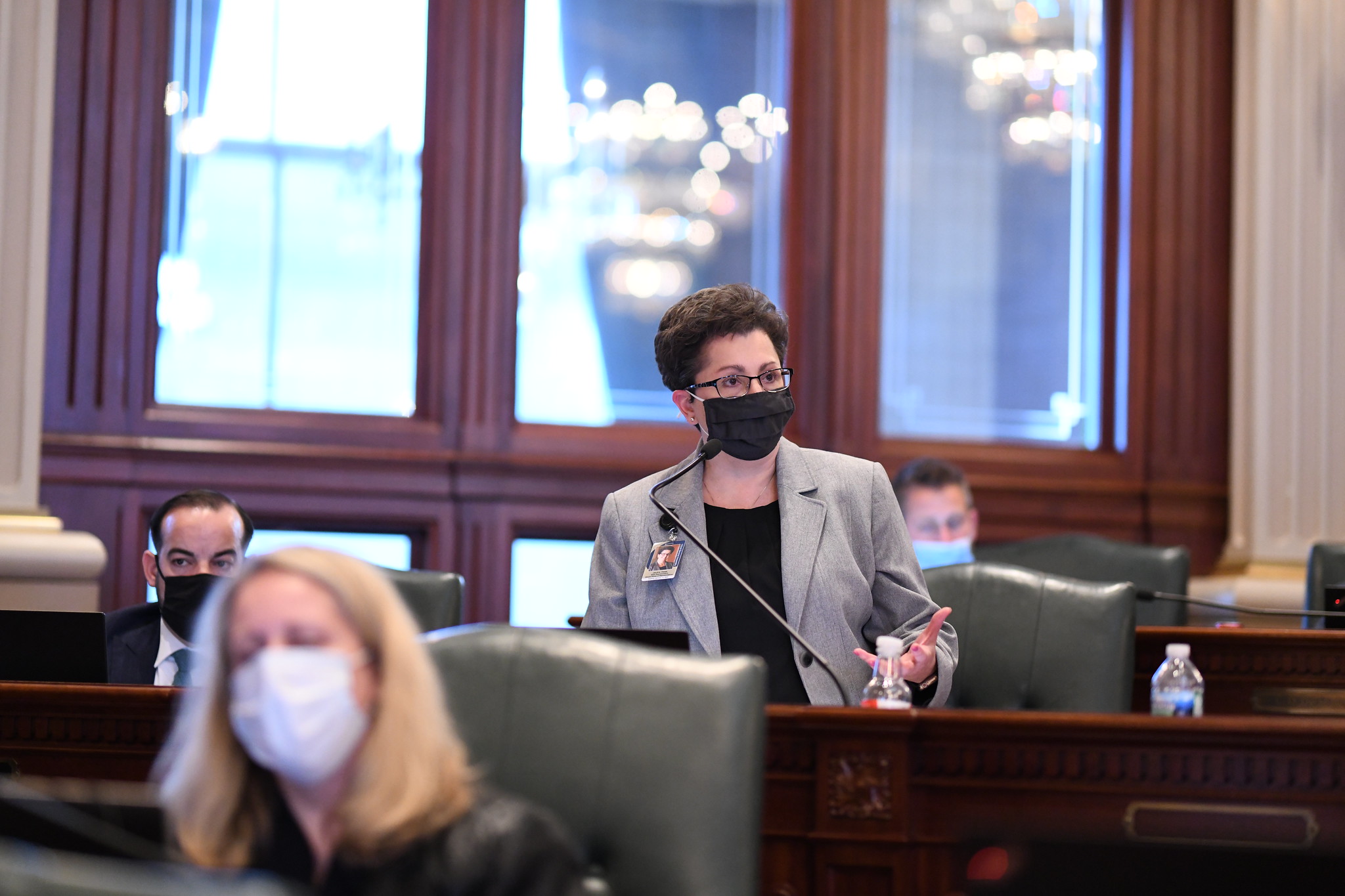 House Bill 843
Continual mandates and rule by executive order is not the way our government was intended to function. Your voice matters and can't continue to be silenced like they have throughout this pandemic.
I am supporting HB843 to restore our system of checks and balances and ensure that the legislature won't be sidelined in any future emergencies. I would encourage you to voice your support as well so that Representatives like me, and chief sponsor State Representative Dan Ugaste, can represent your views in Springfield.
Redistricting
The maps passed in May and signed by Governor Pritzker in June were declared unconstitutional in federal court on 10/19. I agree with both Republican leaders in their sentiment, that the ruling is a victory for Illinois citizens, advocacy groups, and communities of interest whose voices were silenced by the Democrat majority—and our Governor—in passing severely gerrymandered, politically drawn maps. Transparency and fairness are the way forward.
You can view the article here: https://www.sj-r.com/story/news/politics/elections/2021/10/19/federal-court-throws-out-illinois-legislative-map-orders-revisions/8522086002/?fbclid=IwAR3zx8DTYO2lzY52IZwCPkz04GKIGnPvt7mk7dC6kSTyLN-SUorUsq7XdBw
Grants Available
There are so many different business grants available through local, state, and federal funding. Take a look below and find what might be a good fit for your business!
State Grants:
– Rebuild Downtowns & Main Streets Capital Grant; Apply here until January 10th, 2022https://www2.illinois.gov/dceo/Pages/default.aspx – Tourism Attractions and Festivals Grant Programs; Apply here on a rolling basis until funds are depleted https://www2.illinois.gov/…/GrantO…/Pages/2645-1997.aspx Federal Grants: – ARPA Economic Adjustment Assistance; Apply here through March 31st, 2022 https://eda.gov/arpa/economic-adjustment-assistance/ – EDA Good Jobs Challenge; Apply here by January 26th, 2022 https://www.grants.gov/web/grants/view-opportunity.html…
COVID-19 Update
Executive Orders
Governor Pritzker's executive orders are still in effect. You can access them here.
Around the District & Under the Dome
Kankakee Fallen Firefighter Memorial
I had the pleasure of speaking at the Fallen Firefighter Memorial at the Kankakee County Courthouse. Being the wife and daughter of a firefighter, I understand dealing with the worry of your loved one's safety. Thank you to the firefighters who paid the ultimate sacrifice to protect our communities. Thank you to all of the firefighters who risk their lives on a daily basis to keep us all safe.
Blood Drive
Thank you to everyone who donated during my blood drive earlier this month! You are all lifesavers!
CSL Visit
I had a great time touring CSL this month. I'm proud to have such a valuable asset in the district. Thank you for being such an industry leader and community partner!
DV Awareness Month
October was Domestic Violence Awareness Month. I participated in Harbor House – Kankakee County Coalition Against Domestic Violence's 4K for Survivors because we must all work together to end domestic violence!
Thank you to Harbor House – Kankakee County Coalition Against Domestic Violence for all you do to protect those in our community.
Kiwanis
Did a little double duty at the Kankakee Farmers Market – picked up all my market goodies and also volunteered at the Kiwanis tent for their fall scavenger hunt!
National Pork Month
October was National Pork month! To celebrate, the Illinois Pork Producers Association accepted nominations for a chance to receive 25 boxes of shelf-stable bacon!
I'm proud to announce that my nomination of KCCSI – Kankakee County Community Services, Inc was selected to receive 25 boxes of bacon to add to their food pantry!! Congratulations and thank you to the Illinois Pork Producers Association!
Breast Cancer Awareness Month
Over 3.8 million people in the United States have beaten Breast Cancer – and that includes my own sister-in-law who's 5 years cancer-free! That's pretty impressive. This month, let's celebrate these survivors and those who will come after them. And remember, the best way to find breast cancer early and when it's easiest to treat is by getting a mammogram.
Farmers Day
October 12 was National Farmers Day. Happy Farmers Day to all the farm families across Illinois who work hard every day to feed and fuel the world. Thank you to our farmers!
Hundred Club of Kankakee Annual Meeting
I attended a great event with the Hundred Club of Kankakee County! Great company & food, a wonderful speaker, and fantastic organization!
Event with the Zonta Club of Kankakee
I had a nice evening with the Zonta Club of Kankakee this month! What a great event and creative way to support local service projects!
Trunk or Treat Event in Downtown Kankakee
It was a great day for Trunk or Treat in Downtown Kankakee! Thank you to the Rotary 609 for a great event! So many great costumes!
Kankakee State of the County
While I was working in Springfield, my district staff attended the Kankakee State of the County Address in my place. There are great things happening in Kankakee County and I will continue to work hard to be your voice in the General Assembly!
Ireland's Consul General
Had the pleasure of meeting Ireland's Consul General Kevin Byrne!
ONU Presidential Inauguration
Congratulations to Dr. Chennoweth on your inauguration as Olivet Nazarene University's 13th president. The 79th District is behind you as you begin your new role!
Drug Take-Back Event
What a successful prescription drug drop-off-take-back event! Thank you to everyone who came out to drop things off. Thank you to Pledge for Life Partnership and KMEG for a great partnership on this event!
Candlelight Vigil Hosted by Harbor House – Kankakee County Coalition Against Domestic Violence
My staff attended the Candlelight Vigil to honor victims and survivors of domestic violence while I traveled to Springfield last night. Thank you, Harbor House – Kankakee County Coalition Against Domestic Violence, for putting such an important event together. We must stand together to protect our most vulnerable.
Options Center for Independent Living 32nd Annual Meeting and Recognition Luncheon
My staff enjoyed the Options CIL Annual Meeting while I was in Springfield. The 79th is lucky to have such a great organization whose mission is to advocate for individuals with disabilities to live independently and endure their voices are heard!
Coffee and Conversation
Thank you to everyone who came out to chat for my Coffee and Conversation at the Bourbonnais Starbucks. I enjoyed visiting with everyone and appreciate you taking the time to come out and voice your thoughts and concerns. Ensuring you are heard is the most important part of my job as State Representative.
NAACP Banquet
Enjoyed a wonderful evening at the Kankakee County NAACP Freedom Fund Banquet!
First Responders Appreciation Day October 28th was First Responders Appreciation Day! Thank you to all first responders – firefighters, police officers, emergency medical technicians, paramedics, dispatchers, and more. These men and women risk their lives to protect and serve us. When most run away from danger, they're the ones who run toward it. Thank you to all for your service, especially my dad (retired), and my husband!
Trunk or Treat Event in Downtown Peotone
We had a lot of fun at the trunk or treat event in Peotone! Thanks to all the little ghouls who came out to visit!
Mark Your Calendar!
Toys for Tots:
I am excited to be partnering with Toys for Tots and designating my District Office as a donation site! From now through December 1st, please stop by 370 E Court St, Kankakee and drop off any new toys that you would like to donate to families in need! *Please note we are not accepting any used toys or stuffed animals*
Traveling Office Hours:
Coal City Public Library Traveling Office Hours

November 18th, 11 AM-2:30 PM.

Peotone Public Library Traveling Office Hours

November 23rd, 10 AM– 1 PM.
*Appointments are not necessary, but please feel free to call my office with any questions at (815)-523-7779.
Contact Me:
As always, I encourage you to reach out to my office to express your views and opinions on legislative matters. I promise to be approachable, accessible, and accountable. I will fight for you, your family, and your business!