I hope you are enjoying the first days of fall!
The General Assembly will reconvene for Veto Session on October 19th. Until then, please find some updates and recaps below!
Fighting For You!
Ethics Reform
I continue to stand with my House Republican Colleagues in calling for true, meaningful ethics reform. The version that was rejected during special session (SB539) was a wake up call: a majority of lawmakers on both sides of the aisle believe that bill wasn't enough to provide the ethics reform we really need in our statehouse, and for the people of Illinois. We have an opportunity to start over and do just that. We can adopt the measures necessary to clean up government and root out corruption. You can watch the remarks from my colleagues on the issue here.
Energy Bill
I voted for the comprehensive energy bill that passed in the Illinois House. This measure, although nowhere near perfect, will ultimately protect local jobs, keep our nuclear fleet online, and secure Illinois as a lead energy producer for years to come. Given what was at stake for our community–which depended on the result of the success of this bill in the legislature–I was proud to back the future of families and businesses in our 79th District with my support.
IDOT Meeting
This month I hosted a meeting with the Illinois Department of Transportation District 3 and local municipalities to discuss important local projects and concerns. I am excited for the improvements coming to our district!
COVID-19 Update
Executive Orders
The Governor continues to issue executive orders. You can read the most updates here.
Around the District & Under the Dome
Local Business Spotlight – Cornerstone Coffee House
This month I had the pleasure of presenting Cornerstone Coffee House with my Local Business Spotlight award. This coffee house does so much more than serve coffee—they are a great addition to the community here in Peotone and a delight to have right in downtown Peotone!
I encourage my constituents to nominate a business in the 79th District for consideration of a future Spotlight opportunity. You can do this by clicking here.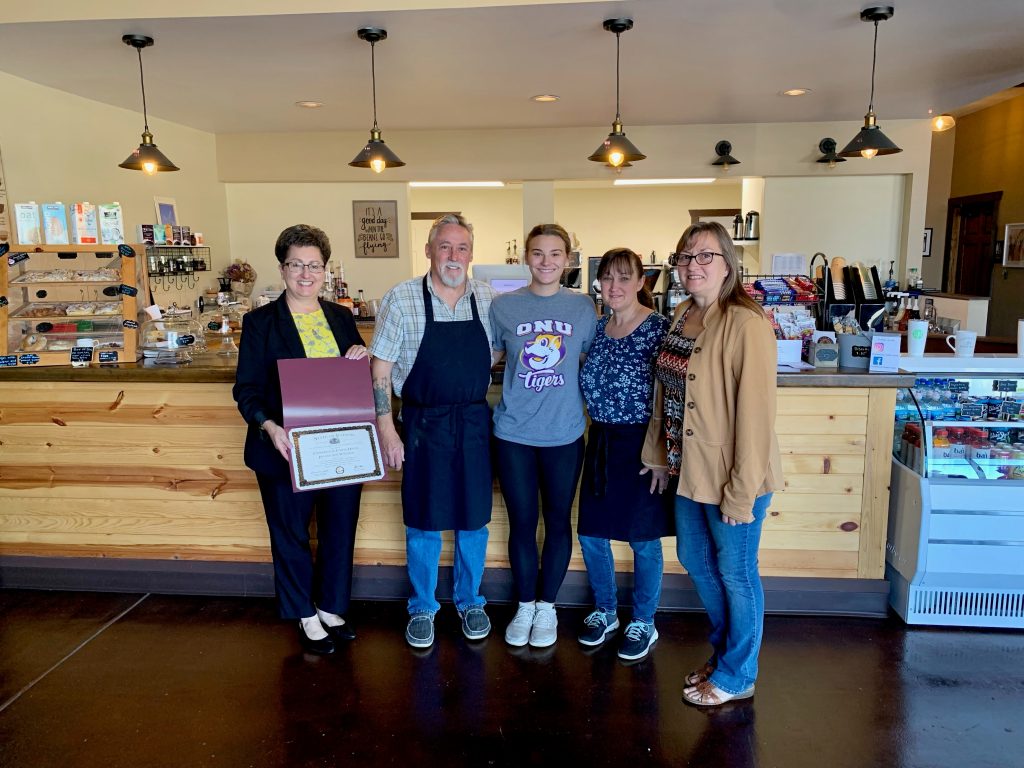 Legislative Breakfast
Thank you to the Kankakee County Chamber of Commerce and the Kankakee County Farm Bureau for hosting me at their annual legislative breakfast! It was great to see everyone and discuss important issues facing the district.
Hog Farm Visit
I had a great time touring a hog farm this month with State Representative Tom Bennett! Thank you to Haag Farm for having us and for all of the hard work you do to provide for our communities. Farmers are the backbone of this district!
Springfield Firefighter's Memorial
I recently attended the 28th Annual Illinois Fallen Firefighter's Memorial & Medal of Honor award ceremony at the capitol.
The monument is located adjacent to the State Capitol Building and serves as an official memorial always, but especially on this occasion. It is a constant reminder whenever I am in the legislature of all of the brave men and women who fearlessly and selflessly live to protect us, our families, and the greater community.
I am awe struck by their service—and to those who gave their lives in the line of duty, I am forever grateful and will never forget.
Delta Kappa Gamma
Thank you to the teachers of Delta Kappa Gamma for hosting me in Herscher reviewing recent legislation impacting education, our youth, and mental health.
Fall Fest
It was a wonderful time enjoying the fall Festival at Good Shepherd Manor with family and friends in Momence.
Blue Mass
It was humbling to attend the Blue Mass procession and mass at St. Pat's honoring all our law enforcement, firefighters, and emergency first responders.
IDNR Site Visit
Thank you to the Kankakee River State Park and the Illinois Department of Natural Resources for giving me a tour of our state park! This park is a staple and an asset to our district.
KCC Library Grand Opening
I celebrated the opening of the Harold and Jean Miner Memorial Library and the Equity, Diversity, and Inclusion center at Kankakee Community College. We are lucky to have such a valuable asset in the district!
Fire Ops 101
I had the honor of participating in Fire Ops 101 in Skokie this month. Thank you to Kankakee Firefighters Local 653 for inviting me to this event. It was a challenging and humbling experience to say the least!
Although I have always had a deep appreciation for this industry – having grown up with a firefighter father, and now seeing my husband work in the industry – this event has given me an even greater appreciation for those who do this difficult work each and every day! Thank you for your service!
Kankakee Chamber of Commerce Ribbon Cutting
Thank you to everyone who came out to my ribbon cutting and open house! Please know that my doors are always open to assist you.
KVSO Woman's Guild Luncheon and Style Show
I had a great time at the Ladies Luncheon and Style Show. It was great to see beautiful pieces by boutiques right in our district! Proud to have such talented people in the 79th.
KCCVB Visit
Thank you to the Kankakee County Convention & Visitors Bureau for showing me your new office! It was great discussing the importance of tourism throughout the district.
What do you look for when you travel?
Elm House Block Party
Had a great stopping by the block party at the Elm House in Kankakee!
Options Center Luncheon
Thank you so much to Options Center for Independent Living for allowing me to speak with you during your advocacy luncheon. It's important to know how to contact your legislators and stay abreast of current legislation!
As always, please know that my doors are always open!
United Way of Kankakee and Iroquois 80th Anniversary
What a wonderful evening celebrating the 80th Anniversary of the United Way of Kankakee and Iroquois Counties! Congratulations on 80 years!
Citadel of Kankakee Visit
Thank you to Citadel of Kankakee for giving me and my staff a tour of your facility. Thank you for working tirelessly throughout the course of the COVID-19 Pandemic to make sure that our most vulnerable are protected.


Mark Your Calendar!
Drug Take-Back Event – Saturday, October 23rd, 10 AM-2 PM (@ Northfield Square Mall)
As always, I encourage you to reach out to my office to express your views and opinions on legislative matters. I promise to be approachable, accessible, and accountable. I will fight for you, your family, and your business!