Read a partial transcript from Harry Ong Jr., brother of Betty Ong, who was a flight attendant aboard hijacked Flight 11. He describes his family's reaction to learning about the event and Betty being killed:
"I got up and turned on the TV, and there was just this big black hole in the World Trade Center…I called my sister Cathy I said, 'You might wanna wake up, turn in your TV and take a look at what they're showing.' The commentator's saying that it's an American Airlines plane. And I casually asked Cathy, I said, 'Do you know where Betty is?' And she says, 'Betty's supposed to be flying out of Boston.' And I said, 'Do you think Betty is on that plane?' We just didn't know. So I left a phone call on her cellphone, just asking her when she's landed or anywhere you're on the ground, to just give us a call and tell us you're okay. And there was no call from Betty. I called American Airlines, and it was only then that it was confirmed that Betty was on the flight."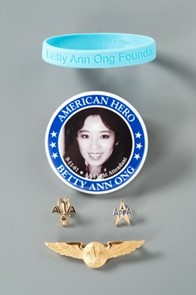 From the Call from Betty Ong on Flight 11 to the American Airlines Reservation Desk
"The cockpit's not answering. Somebody's stabbed in business class, and – I think there's mace – that we can't breathe. I don't know, I think we are getting hijacked."
Ong stayed on the phone for 23 minutes and communicated critical information her fellow flight attendants relayed to her until the plane crashed into the North Tower.
Image from September 11 Memorial Museum