Welcome to my March E-Newsletter.
The Spring Session adjourned for Spring Break on March 30th. We will resume on April 18th. Please contact my District Office with any questions or concerns regarding any state issue. We are here to help!
Below are some updates!
---
FIGHTING FOR YOU!
Monthly Daily Journal Column
I have had the pleasure of writing a column for the Daily Journal once per month during my term. This month's column focuses on my experience joining JCAR. You can read the full article here:
daily-journal.com/opinion/columnists/haas-serving-the-79th-and-illinois-on-jcar/article_
Multiple Sclerosis Awareness Month
March is Multiple Sclerosis Awareness Month. I'm glad to co-sponsor House Resolution 57 to recognize the week of March 12 through March 18, 2023 as Illinois Multiple Sclerosis Awareness Week and honor those living with MS, their families, and MS healthcare professionals.
Read more here: www.ilga.gov/HR0057
Resolution to Honor Fallen Bradley Police Sergeant Marlene Rittmanic Passes House Transportation Committee
To honor the life of fallen Bradley Police Sergeant Marlene Rittmanic, I introduced House Joint Resolution 15 to designate the 315 Overpass on Interstate 57 as the "Sergeant Marlene R. Rittmanic Memorial Highway."  The resolution passed the House Transportation: Regulation, Roads, & Bridges Committee with unanimous and bipartisan support.
Read my full statement here: rep-haas-resolution-to-honor-fallen-bradley-police-sergeant-marlene-rittmanic-passes-house-transportation-committee/
End Corruption in Illinois
We can end corruption in Illinois by passing strong ethics reforms and adopting a zero tolerance policy for bad behavior by lawmakers. Let's give our residents the honest, transparent state government they deserve.
Read more here: www.wandtv.com
Care For Retired K-9's
When we think of the men and women behind the badge, it's also important to remember the trained and heroic K9's who work with them to keep our communities safe. K9's help find missing people, track suspects, and can even detect narcotics or explosives. Once they retire, we should continue to support them in their later years and ensure they get the veterinary care they deserve. I hope to see HB 3588 pass through the Senate and receive the Governor's signature to support these heroic creatures.
Read more here: Haas-Backed Legislation to Fund Vet Care for Retired K9's
IDHS's Announcement
Families of patients at Choate Mental Health and Developmental Center, along with workers and community leaders, reacted with concern after IDHS's announcement of plans to relocate more than 120 residents from the facility.
Read more here: capitolnewsillinois.com/NEWS
How to File a Witness Slip
The Illinois General Assembly's Dashboard allows users to create and modify electronic witness slips for House and Senate Committees. Two methods are available for entering witness slips.
Visit my website for directions on how to fill out witness slips: https://rephaas.com/2023/03/09/how-to-file-a-witness-slip/
---
GRANTS AND FUNDING
DCEO Grant Opportunity
The Department of Commerce and Economic Opportunity has announced $175 million in Back to Business Grants for restaurants, hotels, and creative arts organizations will soon be available. The application period will open on April 5th and run through May 10th.
Information on how to apply is available here: https://dceo.illinois.gov/smallbizassistance/b2b.html
IEMA Grant Opportunity
The Illinois Emergency Management Agency (IEMA) is currently accepting applications for a funding opportunity for eligible non-profits. IEMA is seeking applications from non-profits who are in need of physical and cybersecurity enhancement. Applications are due by April 18, 2023.
For more information please visit: https://iema.illinois.gov/ittf/uasi-grant-outsidecook.html
Carl Bell Scholarship Opportunity
The Illinois Psychiatric Society (IPS) is currently accepting submissions for the Carl C. Bell, MD Memorial Award Essay Contest.
The topic for this year's essay is: What does mental health mean to you, your peers and/or your community? Do you feel mental health has been affected by societal factors such as healthcare inequity, community violence, post-pandemic anxiety, isolation, or racial injustice?
Applications must be submitted by June 1, 2023. The award recipient will receive a $500 cash prize and will be presented at the 2023 IPS Annual Meeting and published in "Mind Matters," the official IPS newsletter publication.
For Guidelines and how to apply please visit: http://www.illinoispsychiatricsociety.org/events-awardscarl-bell-award
B2B Grants
New B2B Grants will be available beginning April 5th and run through May 10th.
This grant is specifically targeted for:
Restaurants (which have not received prior B2B, BIG or RRF funds)
Creative Arts Organizations
Hotels
You can read more about the grant here: https://dceo.illinois.gov/smallbizassistance/b2b.html
---
Around the District & Under the Dome:
Empowering Women
Judy Baar Topinka was a trailblazer and woman with many "firsts" under her belt. She believed in open and transparent government, helping women succeed, and brought humor and kindness to state government. It was an honor to recognize her on the House floor for International Women's Day, former State Treasurer, Comptroller, and Illinois gubernatorial candidate, Judy Baar Topinka!
Watch my speech here: https://fb.watch/jA5eaLjiBr/
National Days this Month
March is filled with celebrations! This month we celebrated: National Son's Day, K9 Veterans Day, World Social Work Day, National Ag Day, Ramadan, National Medal of Honor Day, Pi Day, Epilepsy Awareness Day, Vietnam War Veterans Day, National Puppy Day, Mom and Pop Business Owners Day, and National Doctors Day.
Local Business Spotlight
The 79th District Local Business Spotlight for March goes to Chef Vaughn's Kitchen in Bourbonnais! Nothing says home like good food made by our neighbors, and Chef Vaughn's Kitchen serves excellent Alfredo, grilled foods, and desserts right here in our communities. I look forward to Chef Joshua Vaughn's future plans to make his food more accessible so we can share in his delicious recipes.
Read more here: http://rephaas.com/…/rep-haas-honors-vaughns-kitchen…/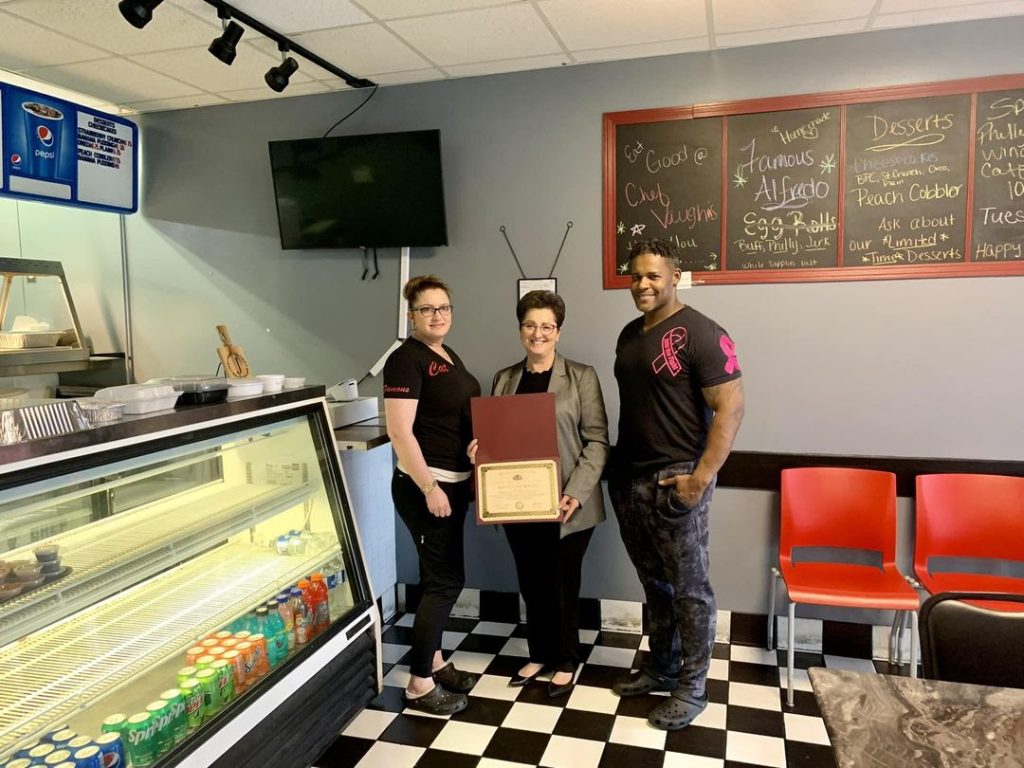 Manteno Community Fire Protection District
It was great to meet with members of the Manteno Community Fire Protection District and hear issues important to them and their industry. It was also a pleasure to take them to the Capitol building and see the House floor! Thank you, firefighters for everything you do to keep us safe.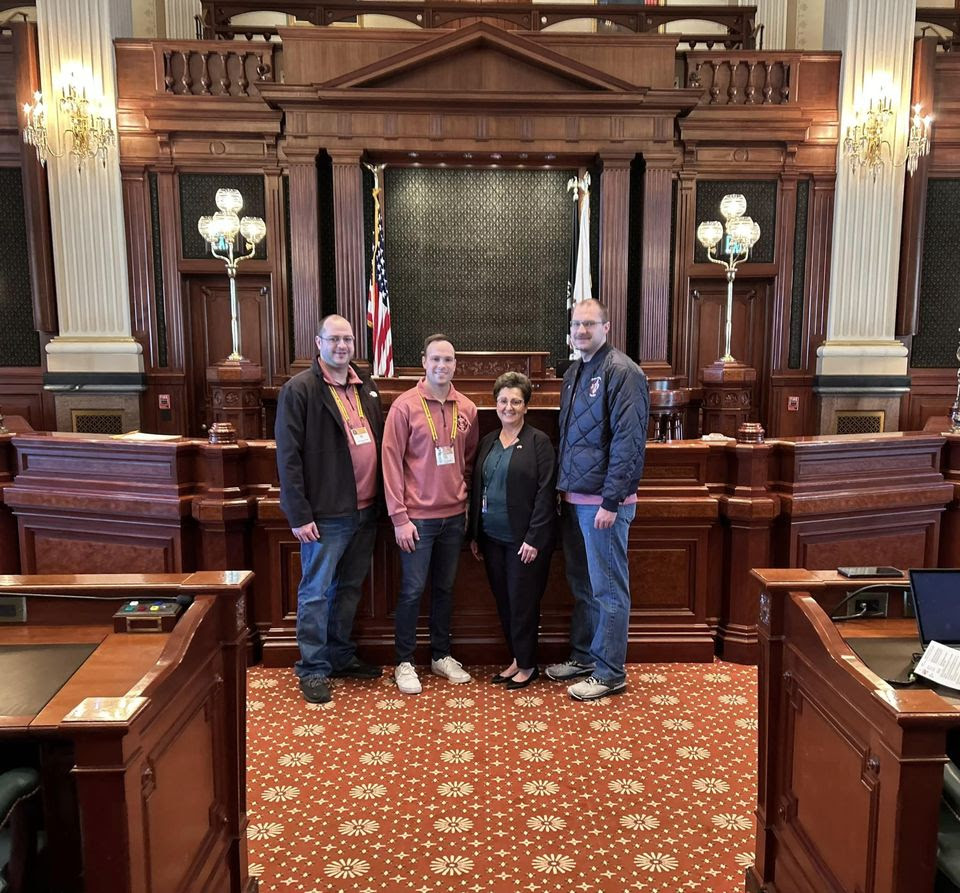 South Suburban Legislative Virtual Breakfast
It was my pleasure to attend the South Suburban Legislative Virtual Breakfast! We had a terrific discussion on a variety of issues affecting the industry. It's because of relationships like this and our ongoing dialogue that help us connect and better serve our communities!
Monee St. Patrick's Day Celebration
While in Monee for satellite hours, my staff attended a St. Patrick's Day Senior Luncheon.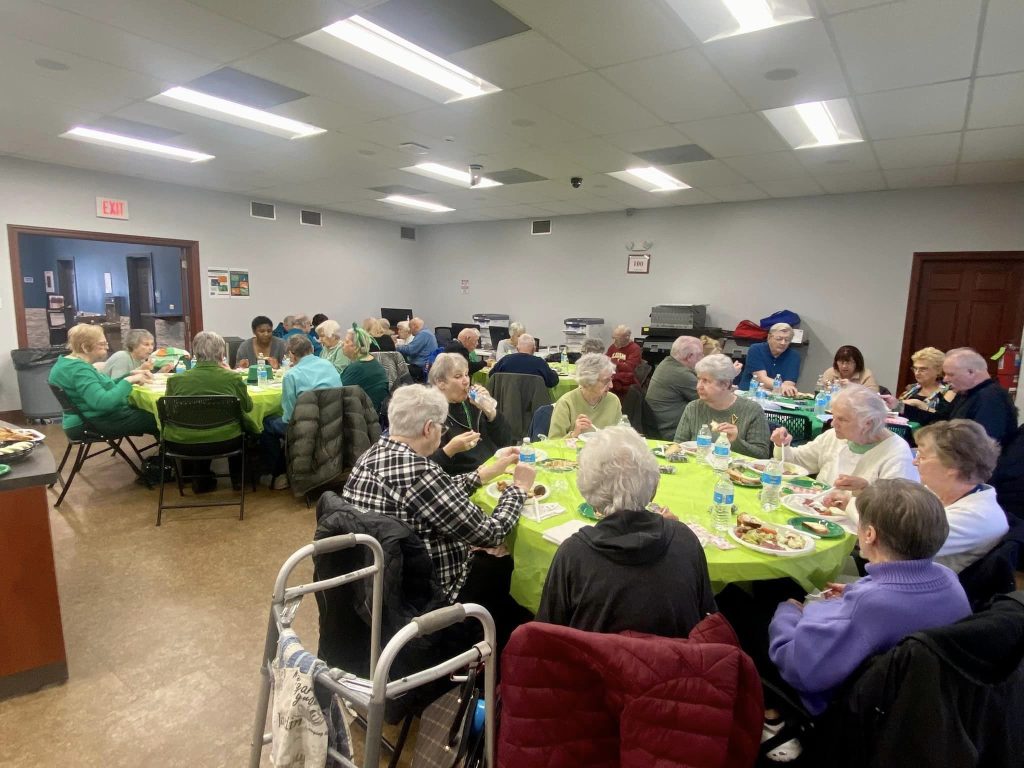 Thank you to all Social Workers
March was also Social Work Month! As practitioners, social workers are trained to help people address personal and systemic barriers to optimal living. They are employed to effect positive change with individuals, families, groups and entire communities. Social workers are essential to well-being.
As a Licensed Clinical Social Worker practicing in the field for the past 33 years, my life's work has been dedicated to promoting the field of mental health and advocating for those who may not have a voice of their own. There has never been a more crucial time than now to emphasize the importance of prioritizing our mental health. While we struggle with health and social crises as a nation and as individuals, strong mental health must be the stable foundation from which each of us moves forward positively. Take care! 
Read more here: https://rephaas.com/…/assistant-leader-haas-recognizes…/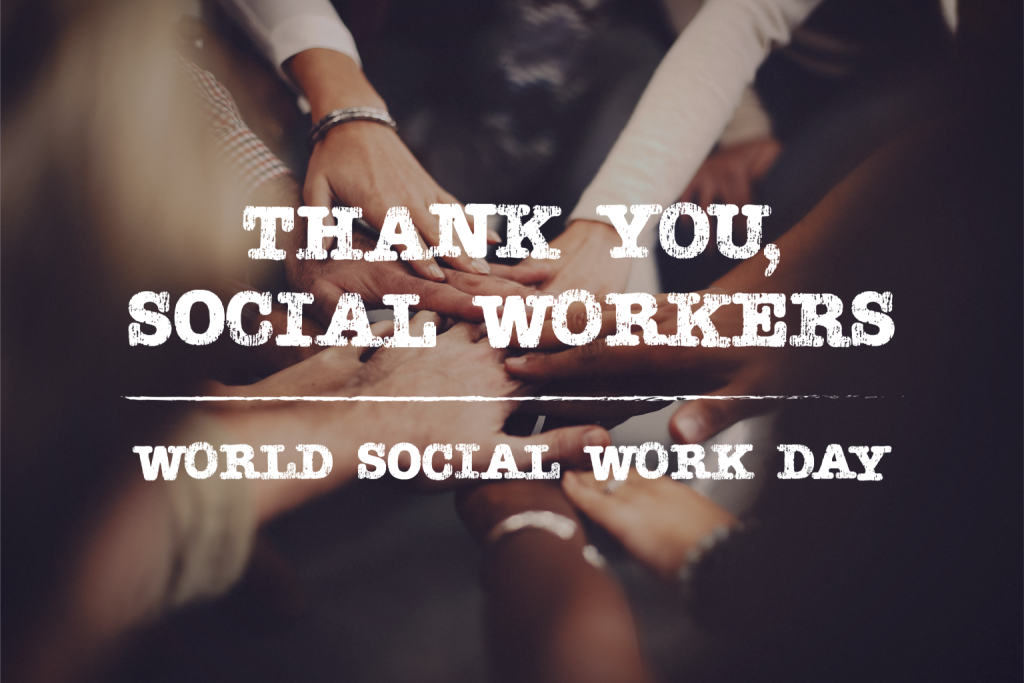 The American Foundation for Suicide Prevention
I had the opportunity to speak to representatives from the IL chapter of the American Foundation for Suicide Prevention who came to the Capitol to advocate for mental health services. It was especially nice to see advocates from my district! Thank you for letting me speak with your group and allowing me to show you around the Capitol!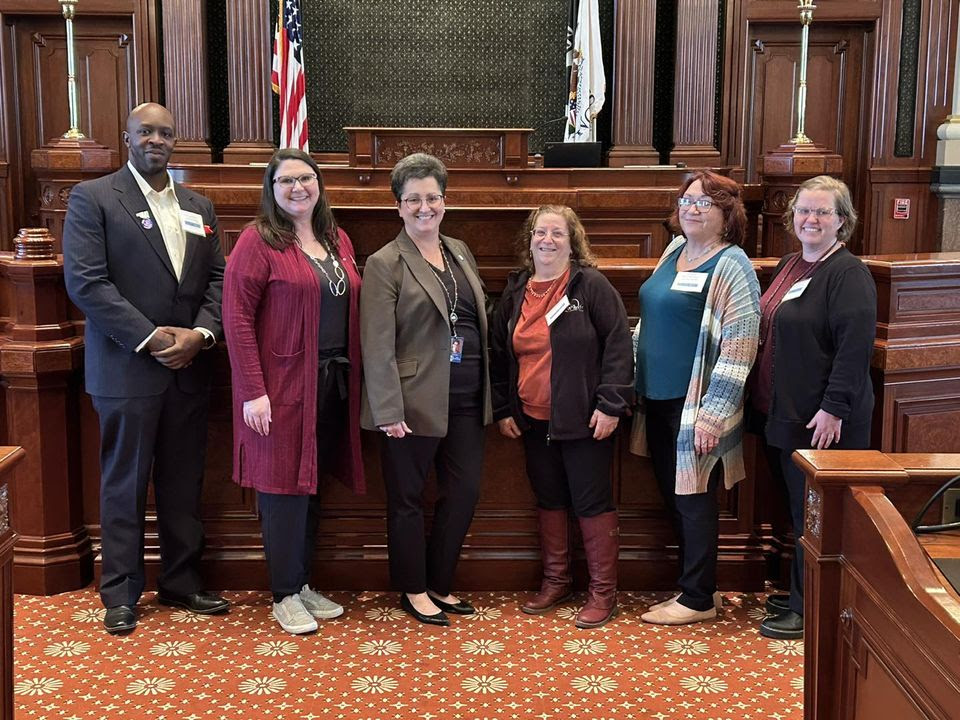 University Park Metra Electric Station
While I'm in Springfield, my staff attended a kick-off event for the University Park Metra Electric Station! This will improve residents' and riders' experience to better integrate with the surrounding community. It's great to see investment in southland public transportation to connect our communities with Chicago.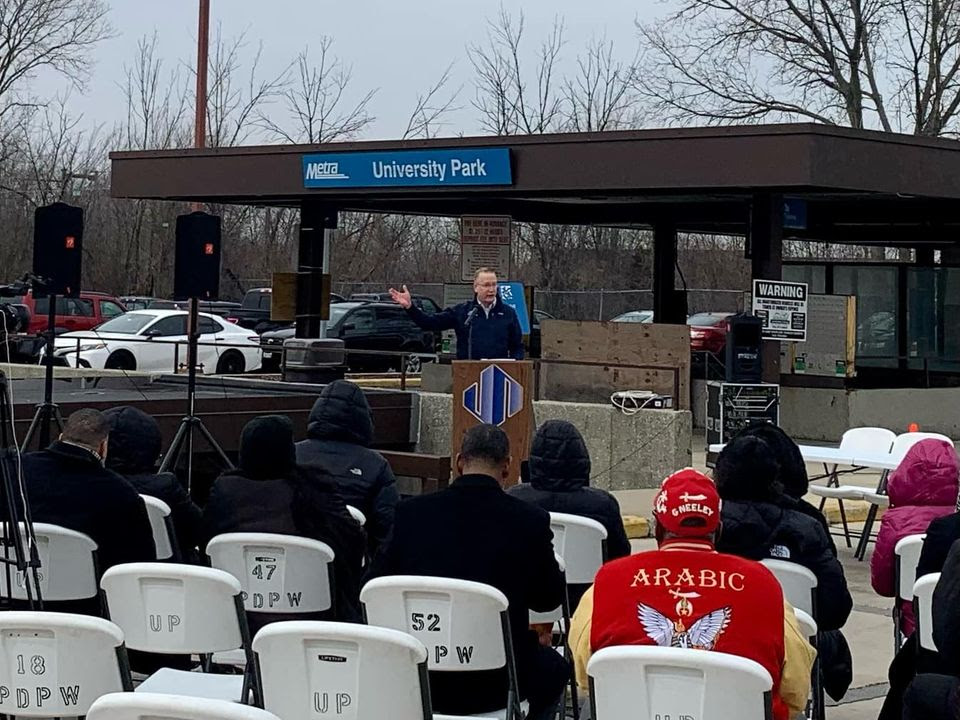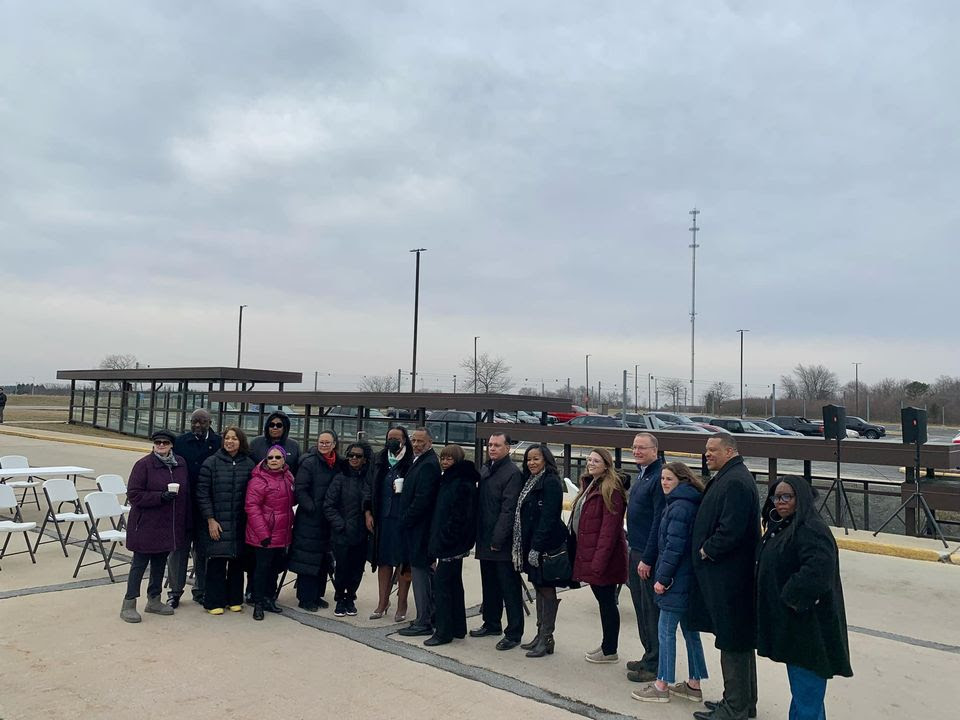 Remembering those who lost their lives
Our community will never forget the tragedy that took place on March 15th, 24 years ago. We remember those who lost their lives, those who were injured, and their families.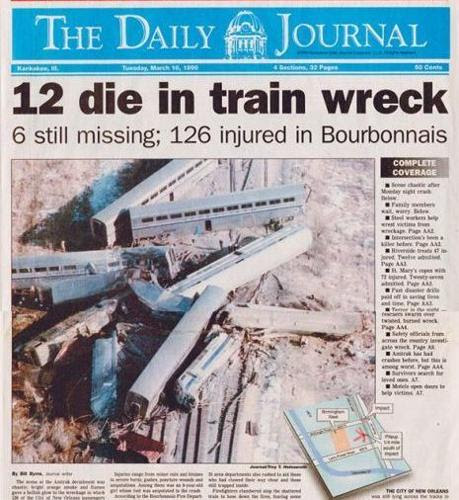 Tall Grass Arts Association Beaux Arts Ball and Blue Gala
Had a great time attending the Tall Grass Arts Association Beaux Arts Ball! Congratulations to the honorees and to the organization for your wonderful contributions to the community! It's always a pleasure to support the arts.

And…although I wasn't able to attend the Blue Gala in person, I'm glad I was also able to be a sponsor of the event and help support its success. I also participated in the auction virtually and picked up a couple wonderful baskets!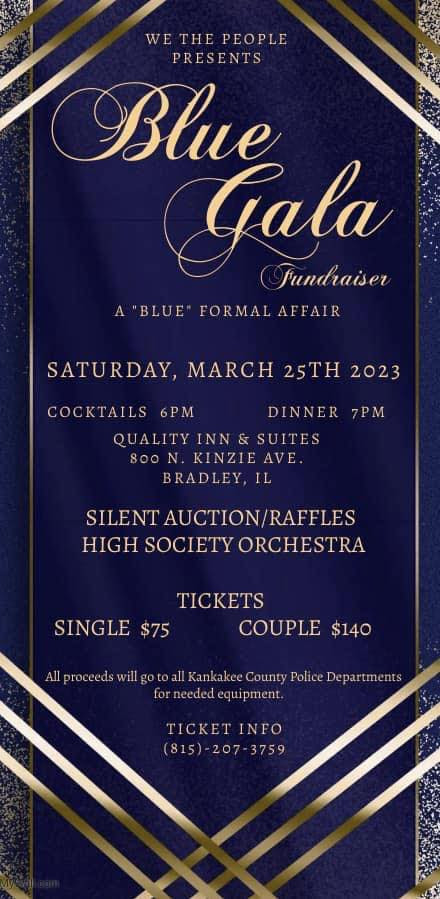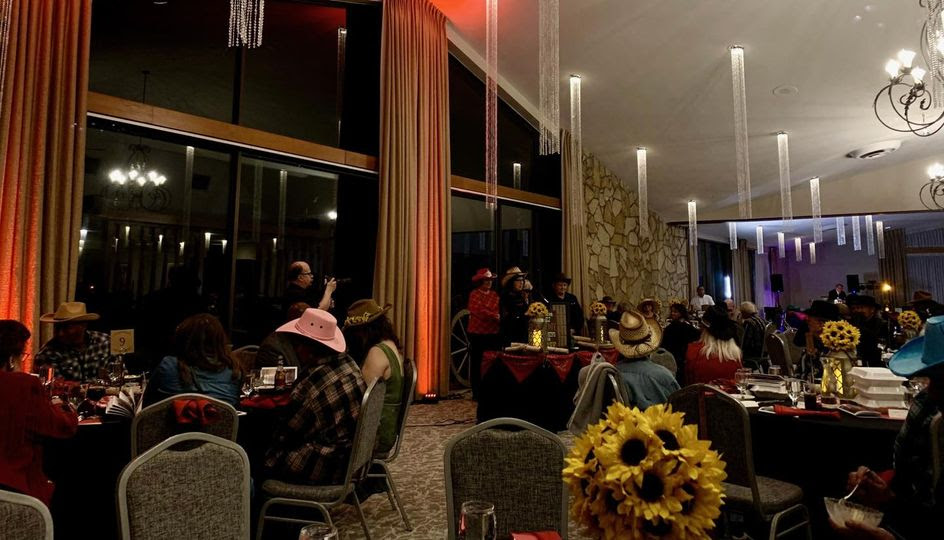 Garden of Prayer Parent Mentor Group
I visited the Garden of Prayer Parent Mentor Group at the Garden of Prayer Youth Center. This group represents 5 different schools in the Kankakee School District, and they shared with me the successes and outcomes of this wonderful program. We also discussed their thoughts on where state assistance is needed for service expansion. Thank you for a productive discussion!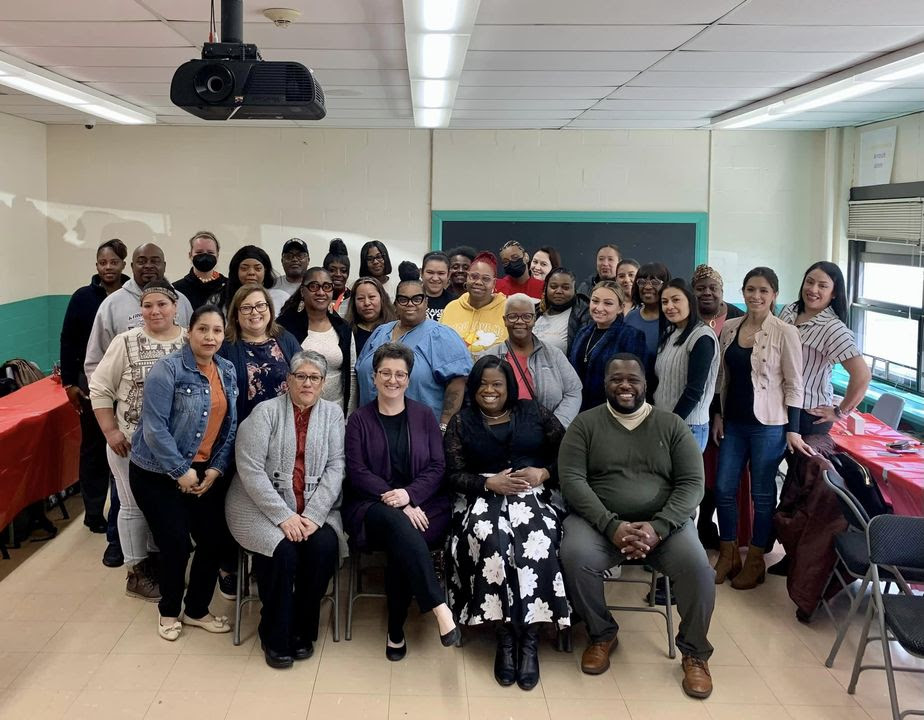 FFA Members Visit
I enjoyed my visit with these amazing FFA members. It's always a pleasure to visit with these young members and hear about their activities and aspirations! Thank you for the visit, the fantastic lunch and basket of goodies!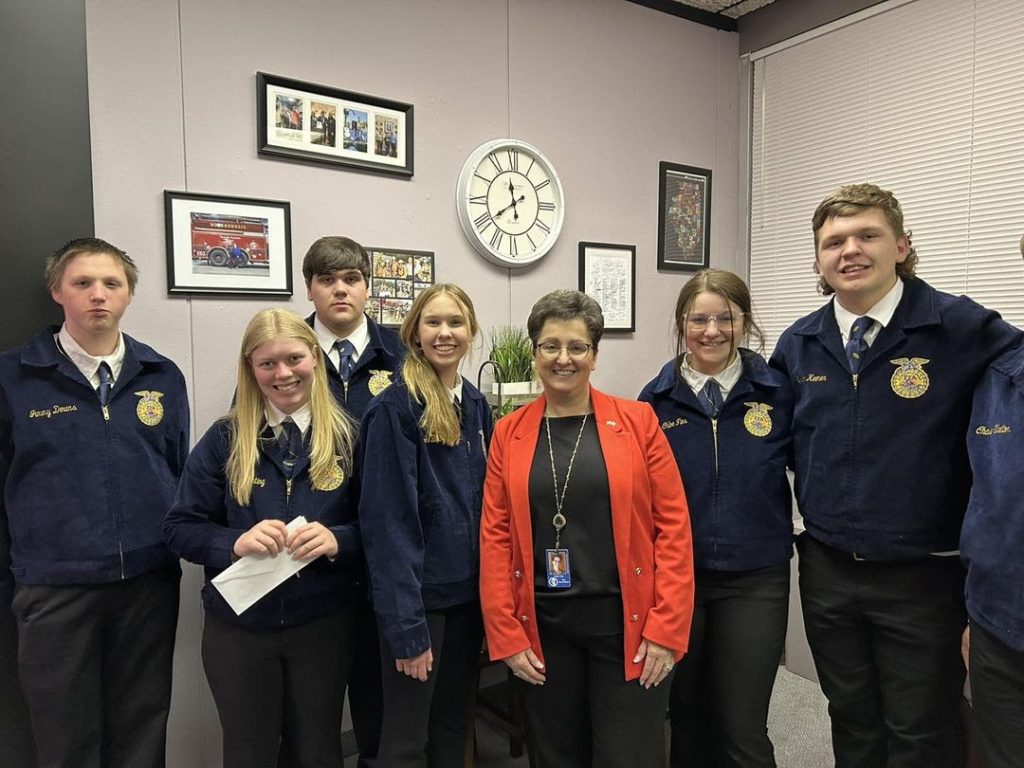 Theft Alert
Mail thieves don't just steal packages on your doorstep, but the U.S. Postal Service actually does offer a service so you know what mail and packages you will be receiving.
Informed Delivery is a free notification feature that lets you digitally preview your mail and packages. You can view what is coming to your mailbox whenever, wherever – even while traveling – on a computer, tablet, or mobile device.
Info here to sign-up: https://faq.usps.com/s/article/Informed-Delivery-The-Basics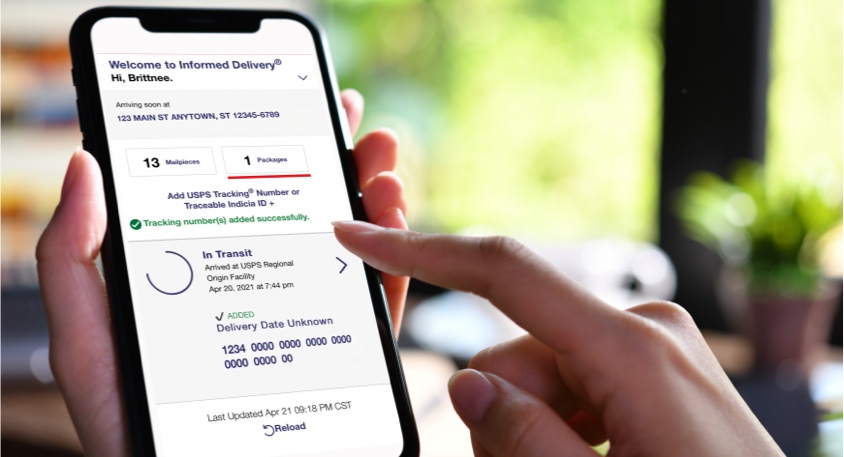 ---
MARK YOUR CALENDAR:
Crete-Monee High School Job Fair
Friday, April 28, 2023
Inside of the CMHS Fieldhouse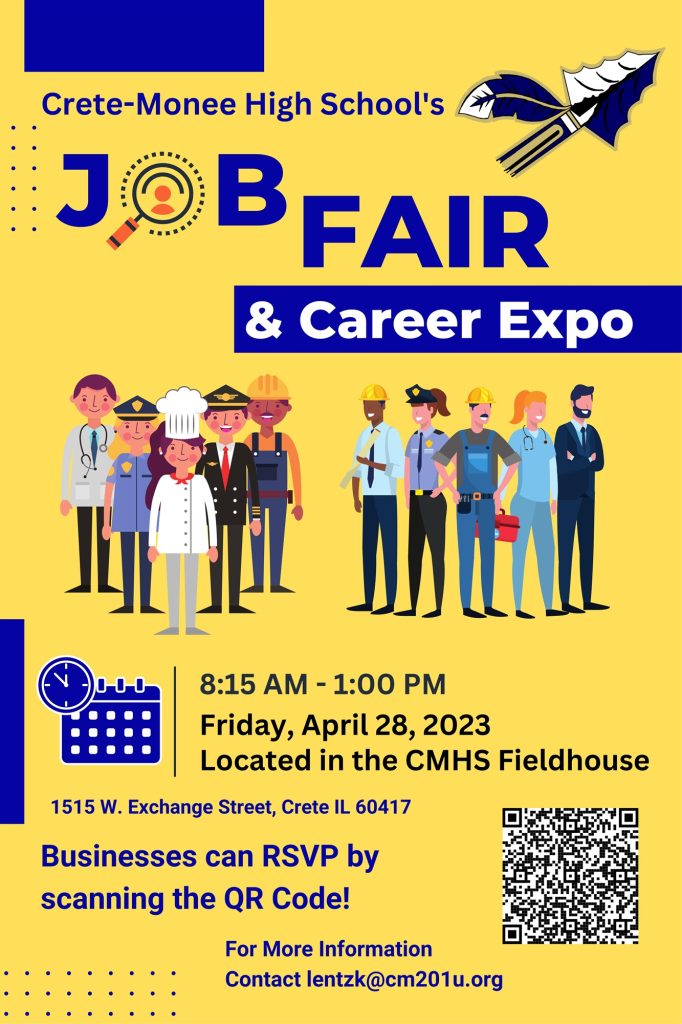 Rx Drug Drop-Off Event
I will be partnering with Pledge for Life, KAMEG, IKAN, Kankakee County Health Department, Local Law Enforcement, and State Senator Patrick Joyce for a FREE Prescription Drug Drop-off Event.
WHEN: Saturday, April 29th – 10:00 a.m. – 2:00 p.m.
WHERE: Northfield Square Mall – East Parking Lot (1600 N. State Route 50, Bourbonnais)
ACCEPTED MEDICATIONS
Tablets, capsules and other solid forms of prescription drugs
Patches
Vaping devices and cartridges (lithium batteries removed)

RESTRICTED ITEMS
Liquids (including intravenous solutions)
Syringes
Needles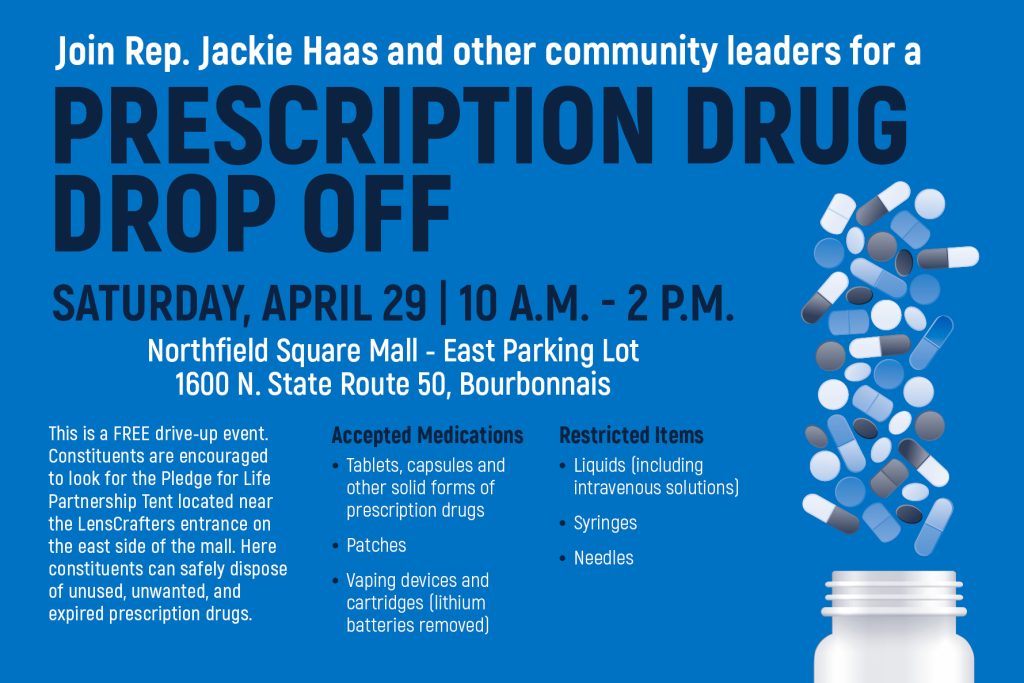 ---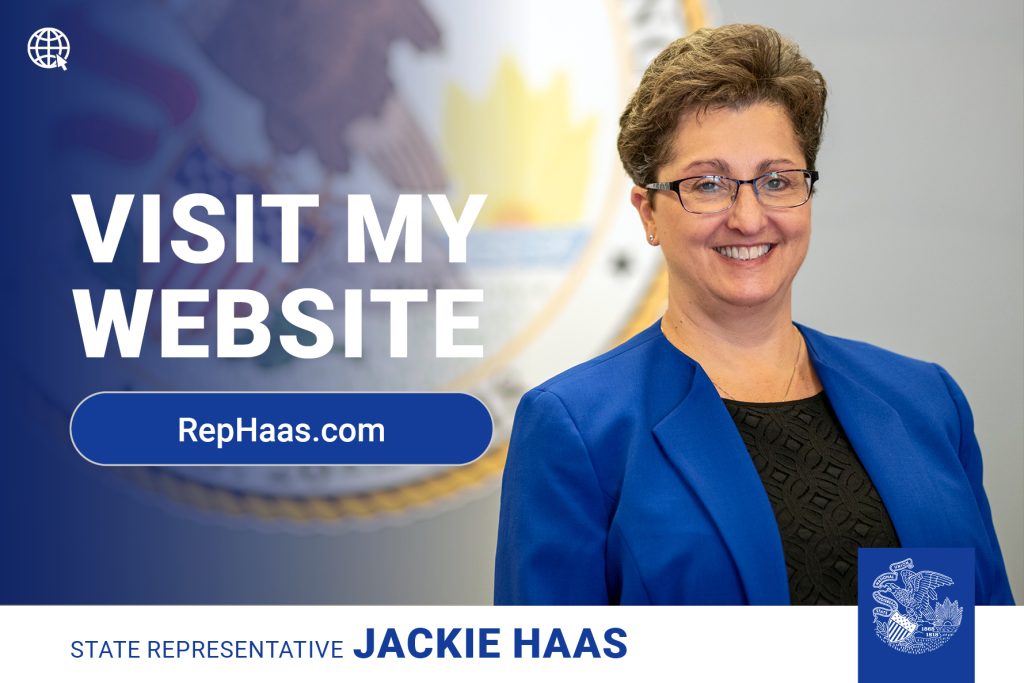 Contact Me:
As always, I encourage you to reach out to my office to express your views and opinions on legislative matters. I promise to be approachable, accessible, and accountable. I will fight for you, your family, and your business!